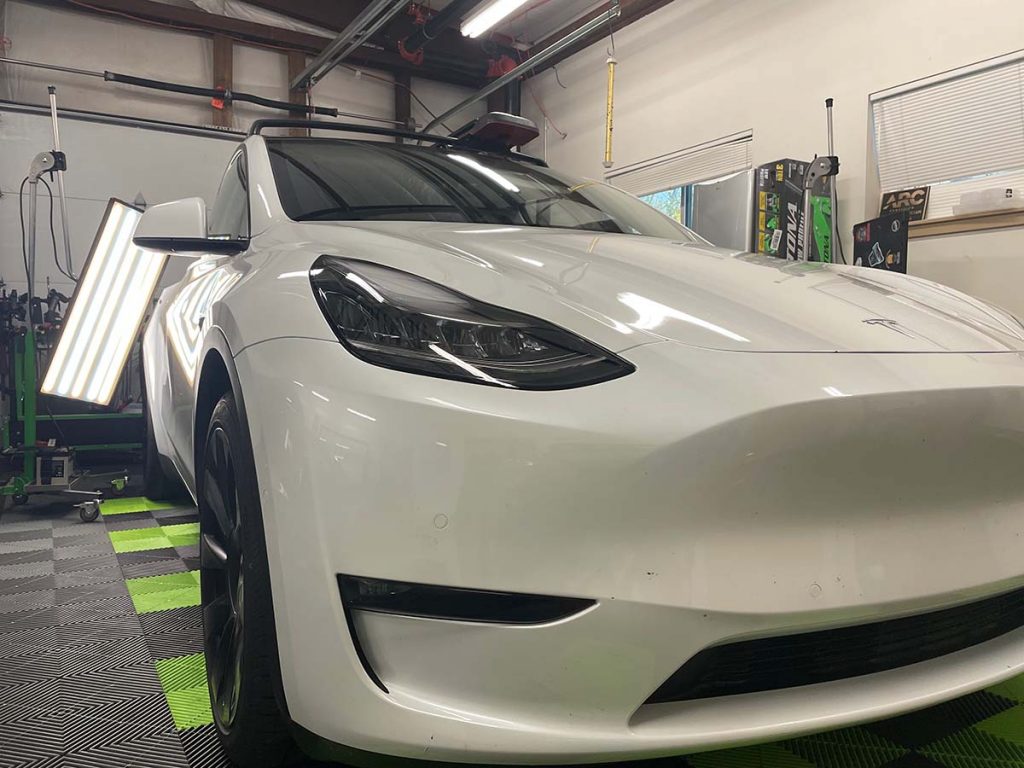 As many know, the Tesla brand produces electric-powered, non-combustion engine vehicles. The nature of these vehicles mean it's more difficult to complete repairs of any exterior panel damage. Dents and dings happen; it's part of life as a car owner. But what should you do to get your Tesla back to looking good as new while restoring the vehicle's value?
At KCL Creations, we specialize in Paintless Dent Repair (PDR). This method gives us the ability to help restore your Tesla's body panels back to pre-damaged condition.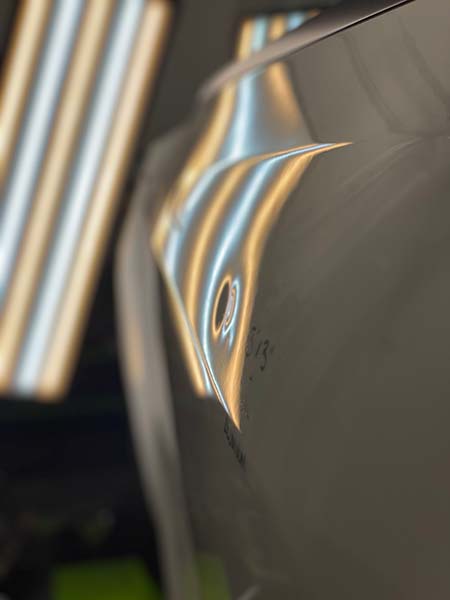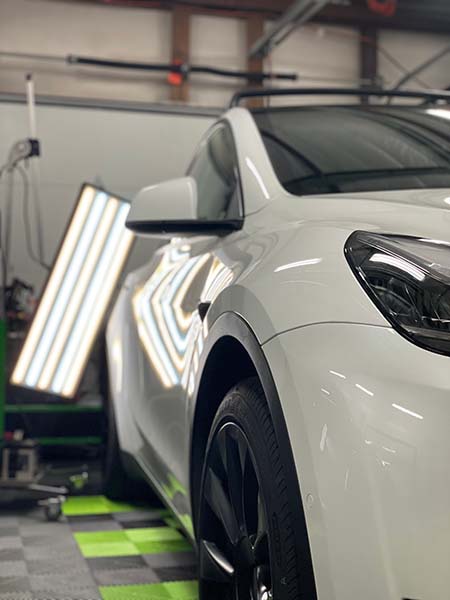 About Paintless Dent Repair for Teslas
You may ask us, "How is this possible?"
To accomplish these repairs requires specialized metals rods and hand tools used in a professional manner by skilled PDR technicians. After accessing the back side of the Tesla body panel, these tools are then used to gently massage the dents out. In other cases when the back sides of the panel are not accessible, we use specialized plastic tabs and automotive glues fastened to the exterior side of the panels to gently pull the surface and massage the metal frame from the outside without damaging the vehicle's finish.
On the 2020 Tesla Model Y pictured above and below, we had the opportunity to use both the glue pulling and the pushing methods to repair a dent on the rear door and one on the front door along the passenger side. With the paintless dent repair method, we fixed this vehicle to appear as if the damage never existed in the first place.
Thanks to PDR, these repairs are much less invasive and more time effective than traditional dent repair. With PDR, most minor dents and small repairs can be performed in less than an hour, and will make your Tesla (or other make vehicle) look like it did before the damage happened. This particular job took three hours to repair both doors. Never did the vehicle need any grinding, body filler or any paint work. Nor did the value of this Tesla diminish or get reported to CARFAX.
At KCL Creations, we work hard to get your Tesla back on the road looking great and dent-free.
*Disclaimer – KCL Creations is not affiliated with Tesla.
We are located at 8478 Raspberry Way, Frederick, Colorado 80504. We are open to walk-in visits from 8:30-5:00 p.m. Monday – Friday. Call or text us for Tesla paintless dent repair quotes or additional information about PDR.
We offer a mobile repair service as well to aid in repairing your Tesla at your convenience. Call KCL Creations at (970) 815-4657 to discuss details and eligibility.