Mobile Dent Repair for Northern Colorado
Mobile Dent Repair for Northern Colorado
Fast, High-Quality Mobile Paintless Dent Repair at Your Convenience
Fast, High-Quality Mobile Paintless Dent Repair
at Your Convenience
Mobile Paintless Dent Repair for the Northern Colorado Area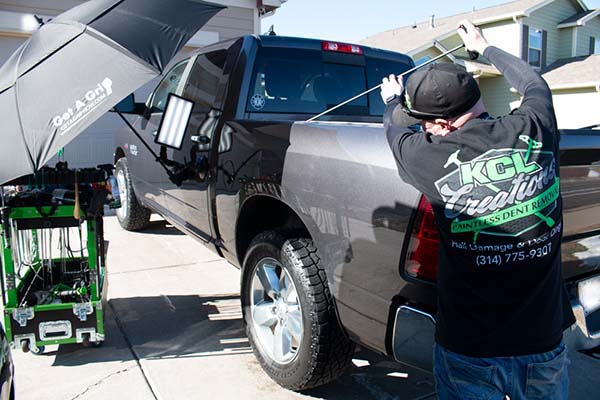 Paintless dent repair (PDR) is the best option to fully remove dents from your vehicle as if they were never there. This modern repair technique restores vehicle value and can fix small door dings to large dents as well as damage from hail and minor accidents. PDR is a non-invasive method that fixes dents without harming the factory paint finish, and can be completed in a few hours depending on the damage.
All dents and repairs are unique, so read on to see if your situation qualifies for our mobile service.
Eligibility for Our Dent Repair Mobile Service
We recognize your time is valuable – if you're unable to visit our Loveland shop location (591 N Denver Ave, Loveland, CO 80537), we can come to you! Our mobile PDR service is offered throughout Northern Colorado in the I-25 corridor (see map below) and includes Westminster, Boulder, Longmont and Fort Collins.
There is a $69.99 service charge for all repairs within our service area and a $89.99 service charge for all repairs outside our normal service area. These fees will be added to the cost of the dent repairs. Please contact us for additional information.
At KCL Creations, we can repair most dents in under a day thanks to the efficient nature of PDR and the skill of our technicians.
Specific eligibility for our mobile PDR service includes: damage must measure six inches across or less, is fixable within half a day and does not require major disassembly. Our team evaluates each mobile dent repair request on a case-by-case basis.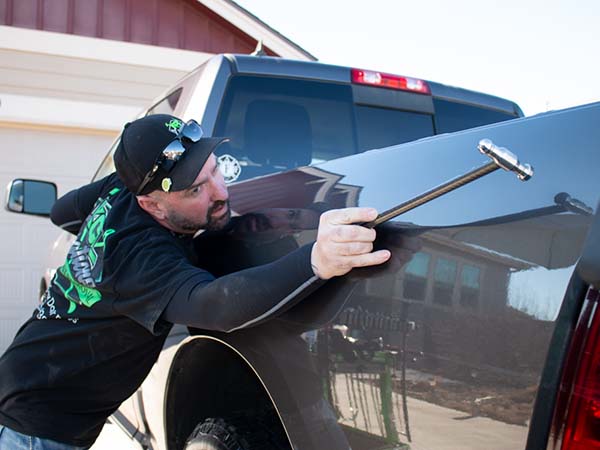 Types of Dents Suited for Mobile Paintless Dent Repairs:
Door Dings: Less than two inches in diameter
Small Dents: Two – five inches in diameter
Medium Dents: Five – six inches in diameter
Types of Dents Suited for In-Shop Paintless Dent Repairs:
Hail Damage – Extent of the damage often requires a controlled setting
Large Dents – Greater than six inches in length
Dents with Accessibility Challenges – Location of the damage affects repairs
Reach out to us for assistance on how to take proper photos of the damage for our mobile dent repair service. Suitability for mobile service is subject to change based on in-person evaluation. In some cases, it's best to repair the dents in a controlled environment of our shop with ideal lighting due to the location or extent of the damage in order to achieve the highest quality results.
Contact us today to get started!